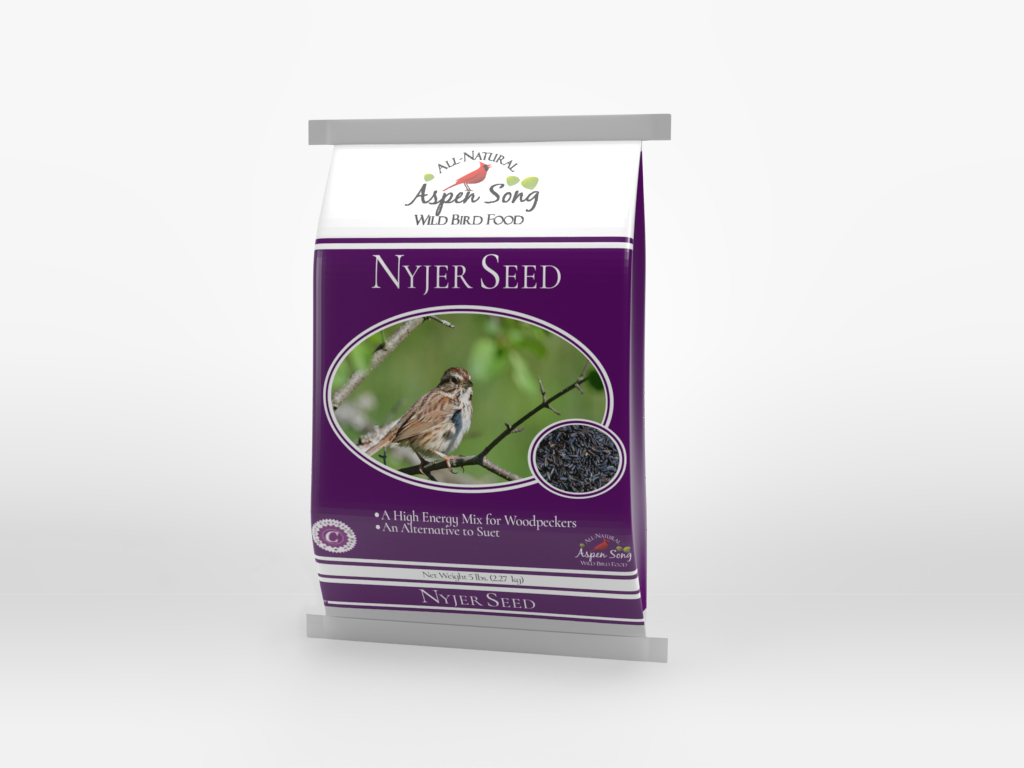 Attracts a Variety of Finches & More
A Finch Magnet!
Offer in a Nyjer® Feeder Made Specifically for these Tiny Seeds
An oilseed crop that is cultivated in Ethiopia, India, Myanmar and Nepal; a small portion of the harvest is imported to North America for use in bird food.
Heat sterilized upon delivery to the United States to assure no weed seeds remain viable. This treatment does not affect the nutritive value or palatability.
An invasive plant; while a few seeds may sprout a yellow, daisy-like flowering plant, the climate in North America is not suitable for its spread; simply remove the plant.
Thistle Seed (Cirsium avense). This native plant with pink ball-shaped flowers is a noxious weed that is a bane to farmers.
What?s the Right Bird Food To Use?
Nyjer® Seed is a magnet for attracting American Goldfinch, Purple Finch, House Finch, Pine Siskin, and Common Redpoll. While the price seems high, there are over 100,000 seeds in each pound. When dispensed through a Nyjer® feeder, with tiny seed ports, the price per finch visit is very economical.
Start feeding the birds anytime and keep feeding year round. Natural food supplies are at their lowest in the spring. Spring brings exciting migrants. Summer feeding provides nutrition during breeding and nesting season. Enjoy seeing parents bring their young to your feeders. Fall and winter feeding is especially helpful during periods of cold and snow.
Who Will Show Up at the Feeder?
Providing a fresh supply of water.
Placing feeders close to sheltering trees and shrubs.
Cleaning your feeders and birdbaths regularly with a mild bleach solution.
Raking up and removing seed hulls from under feeders
Size: 3 lb Clear Poly
UPC: 0-94922-96675-9
Size: 10 lb Clear Poly
UPC: 0-94922-96676-6
Size: 25 lb Polywoven
UPC: 0-94922-20788-3
"Guizotia abyssinica"/niger
Crude Protein (minimum): 15.0%
Crude Fat (minimum): 25.0%
Crude Fiber (maximum): 25.0%
This product is processed, packaged and/or stored in facilities that also may process, package and/or store peanuts, tree nuts, wheat, eggs, milk products and soy.
Not for Human Consumption.