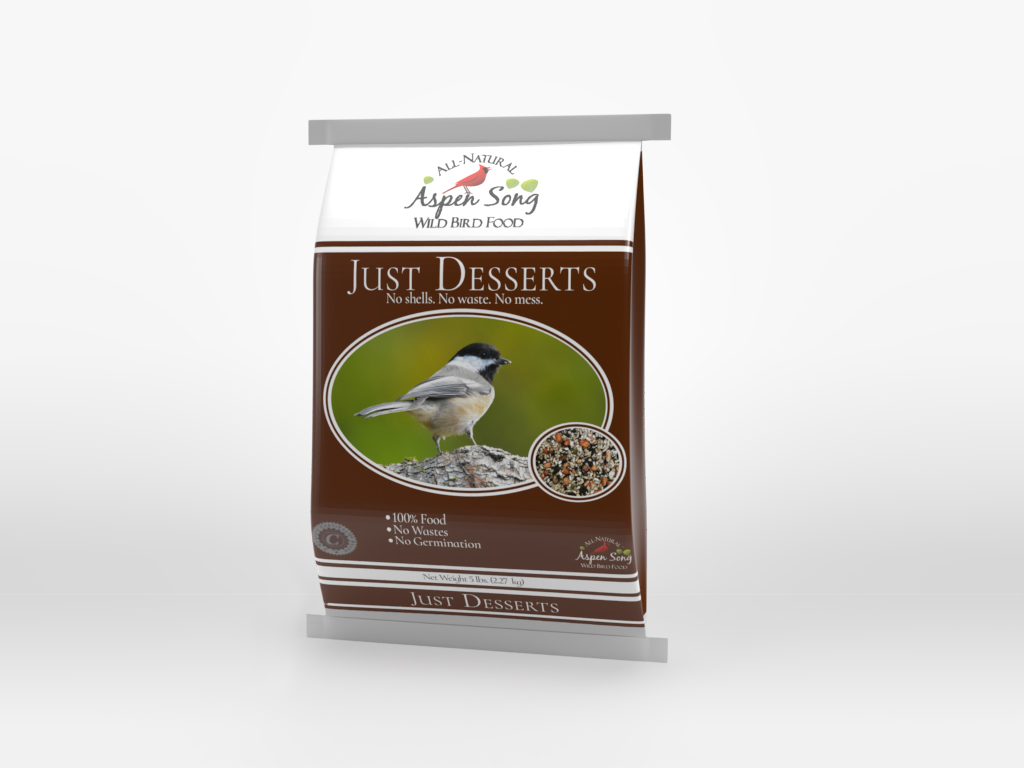 Aspen Song® Just Desserts®
Contains No Shells & No Fillers
100% Food
No Waste
No Germination
Only Pay for What the Birds Eat
What's the Right Bird Food To Use?
Seed-eating birds are quite adept at removing the seed coat or hull from a seed, in order to consume the kernel where the food value is found. They leave the hulls behind for their hosts to clean up. For many folks this bit of housekeeping is a small price to pay for the pleasure wild birds bring to our yards. In some situations these hulls are undesirable. If a feeder hangs within a perennial bed, removing the hulls can be difficult. In carefully tended lawns, the occasional whole seed left behind can sprout. On decks and patios cleaning up seed hulls can be problematic. For those situations, Aspen Song® Just Desserts® is the ideal solution.
Each of the ingredients: peanuts, tree nuts, sunflower kernels, shelled pumpkin seeds, and hulled millet have had the seed coat removed. The mix is 100% pure food. There are no shells to be left behind. Because these ingredients are "partial" seeds, they will not germinate. The mix is a great value because you are not paying for the seed hulls.
Who Will Show Up at the Feeder?
Expect a wide variety of feeder birds to relish this mix as the contents are highly desired by all species. Because the contents are shell-less the food is available to all species. The unusual nature of this food may lure some uncommon visitors such as Indigo Buntings, Brown Creepers, Ruby-crowned Kinglets, Golden-crowned Kinglets, Yellow-rumped Warblers, and Pine Warblers!
What's the Best Feeder To Use?
One of the values of the seed hull is the weather protection it provides the seed during dormancy. Because the hull has been removed, it is important that you offer it in an enclosed tube feeder or hopper style feeder with a roof.
Keep Them Healthy and Coming Back By:
Providing a fresh supply of water.
Placing feeders close to sheltering trees and shrubs.
Cleaning your feeders and birdbaths regularly with a mild bleach solution.
Raking up and removing seed hulls from under feeders
Size: 4 lb Clear Poly
UPC: 0-94922-96663-6
Size: 20 lb Polywoven
UPC: 0-94922-96664-3
Peanuts
Tree Nuts – may include:

Pistachios
Almonds
Cashews
Pecans

Sunflower Kernels
Hulled Millet
Shelled Pumpkin Seeds
Crude Protein (minimum): 17.1%
Crude Fat (minimum): 29.8%
Crude Fiber (maximum): 7.3%
This product is processed, packaged and/or stored in facilities that also may process, package and/or store peanuts, tree nuts, wheat, eggs, milk products and soy.
Not for Human Consumption.