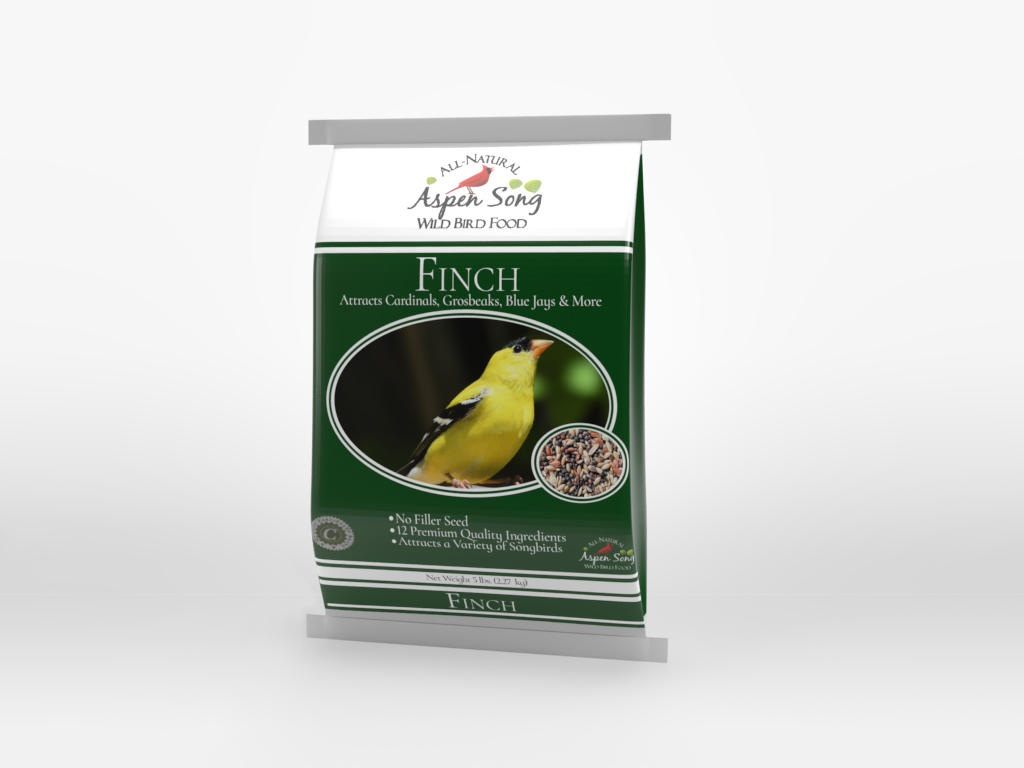 Attracts Finches, Siskins, Redpolls & More
Sized for the Finch Family
Expect a "Goldrush!"
For Finch Tubes Only
Do the birds in your yard have to wait their turn to get to the feeder?
Adding more feeding stations reduces this competition. Providing mixes designed for specific birds in appropriate feeders will increase the number and species of birds for you to enjoy.
Are your visitors spilling seeds on the ground as they search for favorite morsels?
Offering mixes formulated for specific groups of birds provides them variety while minimizing waste. A mixture of the right seeds is always more effective than any single-seed offering.
What's the Right Bird Food To Use?
Aspen Song® Finch is ideally formulated for these small perching birds. It contains Fine Sunflower Pieces, Small Yellow Millet, Nyjer® Seed, Canary Seed, and Canola Seed. The contents may be tiny in size, but are packed with nutrition for this energetic group. And all are food magnets to the finch family of birds.
Who Will Show Up at the Feeder?
Among the birds visiting your yard are a select group of smaller birds with bills that seem tiny for seed-eaters. They include American Goldfinch, Purple Finch, House Finch, Pine Siskin and Common Redpoll. Rarely a Hoary Redpoll may be seen
What's the Best Feeder To Use?
These species comfortably perch on tube-style feeders. Other larger birds have trouble with the short perch lengths. Offering this mix in a tube-style feeder with tiny seed ports designed for Nyjer® seed, means the small-billed, perching birds will have a dinner table set just for them.
Keep Them Healthy and Coming Back By:
Providing a fresh supply of water.
Placing feeders close to sheltering trees and shrubs.
Cleaning your feeders and birdbaths regularly with a mild bleach solution.
Raking up and removing seed hulls from under feeders
Size: 4 lb Clear Poly
UPC: 0-94922-96665-0
Size: 20 lb Polywoven
UPC: 0-94922-96666-7
Fine Sunflower Pieces
Small Yellow Millet
"Guizotia abyssinica"/niger
Canary Seed
Canola Seed
Crude Protein (minimum): 13.0%
Crude Fat (minimum): 18.5%
Crude Fiber (maximum): 15.2%
This product is processed, packaged and/or stored in facilities that also may process, package and/or store peanuts, tree nuts, wheat, eggs, milk products and soy.
Not for Human Consumption.