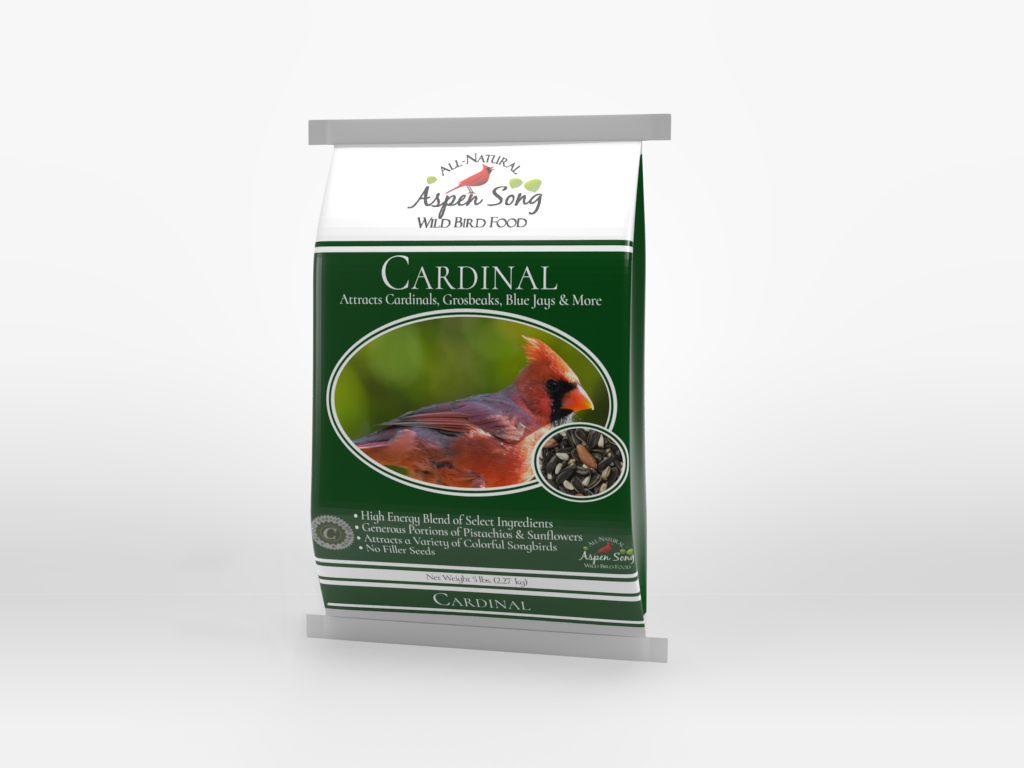 Attracts Cardinals, Grosbeaks, Blue Jays & More
For the Large Billed Birds
50% Sunflower Seed
Enjoy Cardinals & Grosbeaks Up Close
Premium Seeds Only
Do the birds in your yard have to wait their turn to get to the feeder?
Adding more feeding stations reduces this competition. Providing mixes designed for specific birds in appropriate feeders will increase the number and species of birds for you to enjoy.
Are your visitors spilling seeds on the ground as they search for favorite morsels?
Offering mixes formulated for specific groups of birds provides them variety while minimizing waste. A mixture of the right seeds is always more effective than any single-seed offering.
What's the Right Bird Food To Use?
Aspen Song® Cardinal is ideally formulated for this select group of birds. Black Stripe Sunflower, Safflower, and Buckwheat have hard shells, but are easy crackin' for these birds. Steam-crimped Corn and Oil Sunflowers round out the mix and appeal to Blue Jays and Rose-breasted Grosbeaks.
Who Will Show Up at the Feeder?
Among the birds in your yard there are those with large bills perfectly suited to cracking open large, heavy-shelled seeds. This group includes Northern Cardinal, Rose-breasted Grosbeak (springtime), Evening Grosbeak, and Blue Jay. Blue Grosbeaks and Pine Grosbeaks occasionally visit feeders. You might even entertain a rare visitor from the north: White-winged Crossbill or Red Crossbill.
What's the Best Feeder To Use?
These species, some of the largest to visit your yard, feed most comfortably at platforms or hopper-style feeders. Placing one in an open area of the yard will signal a dinner invitation to the 'heavyweights.'
Keep Them Healthy and Coming Back By:
Providing a fresh supply of water.
Placing feeders close to sheltering trees and shrubs.
Cleaning your feeders and birdbaths regularly with a mild bleach solution.
Raking up and removing seed hulls from under feeders
Size: 4 lb Clear Poly
UPC: 0-94922-96667-4
Size: 18 lb Polywoven
UPC: 0-94922-96668-1
Black Stripe Sunflower
Safflower
Oil Sunflower
Crimped Corn
Buckwheat
Crude Protein (minimum): 17.0%
Crude Fat (minimum): 18.7%
Crude Fiber (maximum): 25.8%
This product is processed, packaged and/or stored in facilities that also may process, package and/or store peanuts, tree nuts, wheat, eggs, milk products and soy.
Not for Human Consumption.