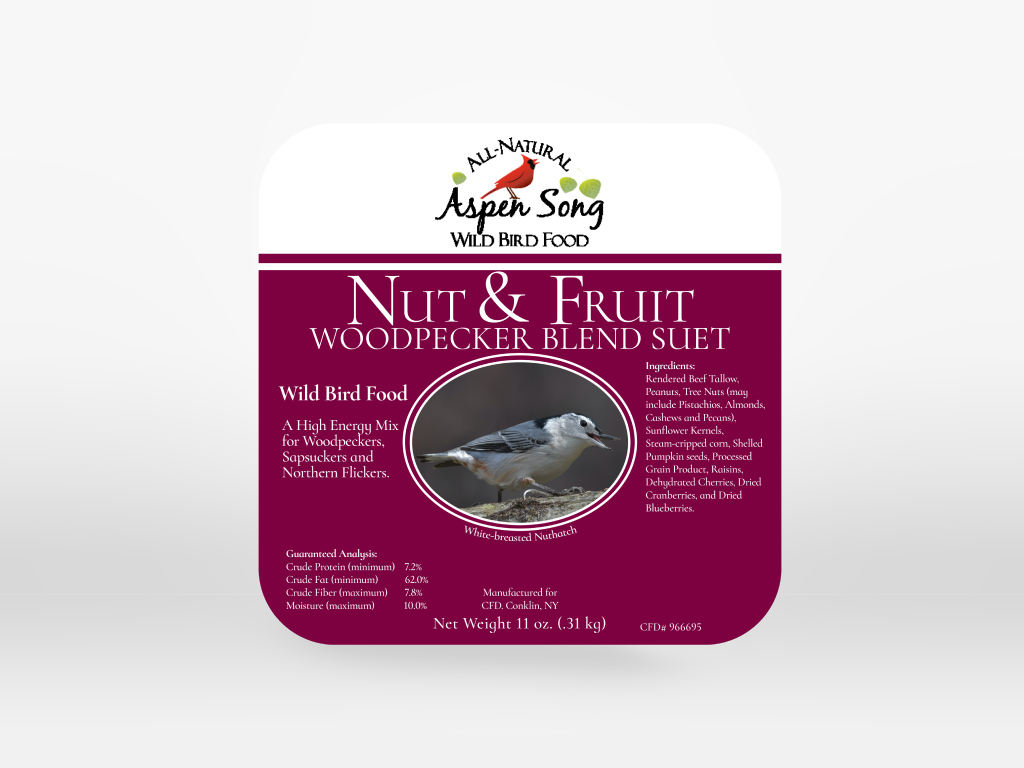 Aspen Song® Nut & Fruit Suet
A High Energy Mix for Woodpeckers, Sapsuckers and Northern Flickers.
All the nutritious ingredients of our Nut & Fruit Woodpecker Blend seed mix, blended together for a superior suet that brings the birds back for more.
Who Will Show Up at the Feeder?
Hairy Woodpecker, Downy Woodpecker, Red-bellied Woodpecker, Red-headed Woodpecker, Northern Flicker, Yellow-bellied Sapsucker, and Pileated Woodpecker. Any of your favorite feeder birds on the list? These handsome, vocal, and animated birds are welcome visitors. The woodpeckers are colored in bold, bright splashes of black, white, and red. Often visiting feeders in pairs, they may bring their young during summer months.
Keep Them Healthy and Coming Back By:
Providing a fresh supply of water.
Placing feeders close to sheltering trees and shrubs.
Cleaning your feeders and birdbaths regularly with a mild bleach solution.
Raking up and removing seed hulls from under feeders
Size: 12 x 11 oz. per Case
UPC: 0-94922-33733-7
Rendered Beef Tallow
Peanuts
Tree Nuts – may include:

Pistachios
Almonds
Cashews
Pecans

Sunflower Kernels
Steam-crimped Corn
Shelled Pumpkin Seeds
Processed Grain Product
Raisins
Dehydrated Cherries
Dried Cranberries
Dried Blueberries
Crude Protein (minimum): 7.5%
Crude Fat (minimum): 62.0%
Crude Fiber (maximum): 3.5%
Moisture (maximum) 10.0%
This product is processed, packaged and/or stored in facilities that also may process, package and/or store peanuts, tree nuts, wheat, eggs, milk products and soy.
Not for Human Consumption.